Creating a peer-to-peer energy marketplace: Power Transition and Hedera Hashgraph
In the past decade we've seen solar, electric vehicles, and in-home batteries all take-off. Combined, these enable consumers to generate, own, and use their own electricity. This transitionary period offers quite a few parallels with blockchain and distributed ledgers.
This guest blog post is by Jiro Olcott, Director at Power Transition. Power Transition is a Microgrid Management Platform designed to transform how energy is used, managed, and traded by governments, organisations, business, and individuals alike.
Built on Hedera
Power Transition runs on Hedera Hashgraph, taking advantage of the speed of its cryptocurrency, hbars, and support of smart contracts. Overall, our architecture consists of an integrated public and private ledger.
Using the Hedera and Swirlds SDKs in combination, it has been relatively straightforward to build a very scalable architecture of interconnected public and private networks.
Our transactions and events managed by the distributed ledgers will include:
Transaction fees
Peer-to-peer energy payments
Smart contract fees
Audit reports (DLT decentralised database)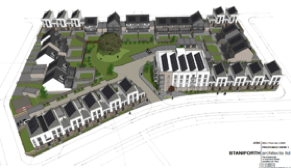 To the real-world
We've begun implementation in our first project, a complex of 45 homes and 2 apartment buildings located in Northamptonshire, UK. At the Etopia-Corby site, we're developing a super-energy-efficient estate with enormous scale-up capabilities.
The first four buildings have the required hardware installed and will be running on Power Transition's microgrid management platform timed with open access of the Hedera mainnet. Each household will have two settings for exchanging: automated or custom.
Automated exchange
Most homeowners want an automated, painless process to buy or sell their electricity. Since appropriate levels of KYC (know your customer) are already done for homeowners joining the microgrid, standard peer-to-peer trading can be performed without the use of smart contracts.
While we could use a smart contract, using them would be a little like having the senior partner of an international law firm in London witnessing the purchase of a second-hand lawnmower from your long-time neighbour.
Therefore, we have developed these deals in a style we've called Conditional Control Flow Programming. This goes through all the motions of contract fulfilment at a decentralized application backend without the burden, and cost, of a Solidity smart contract.
Custom exchange
We use smart contracts to empower the more tech savvy folks to customise their energy management according to their chosen lifestyles.
With it, they can control custom trades or can sell or buy larger volumes of energy which warrant the use of Smart Contracts.
Energy Brokers who aggregate and sell on large amounts of energy to commercial users will require Smart Contracts too.
We estimate that our system can efficiently handle 1.25million meter readings daily, £1.5 billion of customers funds annually and manage interconnections between the British mainland, Northern Ireland, France, the Netherlands, and the Republic of Ireland.
Looking forward
In our second phase we will develop our Virtual Power Plants called PowerOS on the Hedera Platform: this is where Hedera will show its true colours to the energy sector!
Given the scale of Hedera, our market is not restricted to residential microgrids such as the one we are building in Corby. As such, PowerOS will be designed to handle vast amounts of energy from wind and solar farms to hydro-electric plants and tokenize every single kWh of electricity as it's being produced, transmitted, stored, and consumed. All with immediate micro-settlements along the way. Energy aggregators and brokers will want to leverage the smart contracts we've developed since they will be dealing in much higher stakes.
The only underlying platform that I believe can stand-up to the job is Hedera Hashgraph. And it's capable of so much more. What brought this home to me was participating in the community testing program. During the transaction onslaught of the dailytimestamp.com, I didn't see Hedera Hashgraph network falter. Payments were settled with incredible speed. Which in comparison leaves blockchain (…and VISA) in the dust! It's like comparing horse-and-cart with an X-15, frankly!
We believe the energy industry needs a distributed ledger packhorse. Power Transition can provide an entry point for consumers and businesses to interconnect value and information among a myriad of microgrids and other energy networks with efficiency, stability, and accuracy. Allowing them to get instant and fair value for their electricity.
It's exciting times for Power Transition, Hedera, and the internet. Learn more about Power Transition.